If you want to build mobile applications with use of extensive HTML5 then DHTMLX Touch is a JavaScript library mobile framework that can help you achieve this. So next time when you plan to develop a HTML based mobile web app then do not forget to consider this free open source DHTMLX Touch JavaScript framework . This framework is not merely a set of User Interface widgets but is a fully fledged framework that will help you create Robust ad Attention Grabbing Web Applications that will function on Android , iOS and all other mobile platforms. DHTMLX Touch is a complete compatible mobile framework that can be used for developing as for all the touch screen devices & the apps that are built with this framework will function smoothly on Android, iPad and iPhone.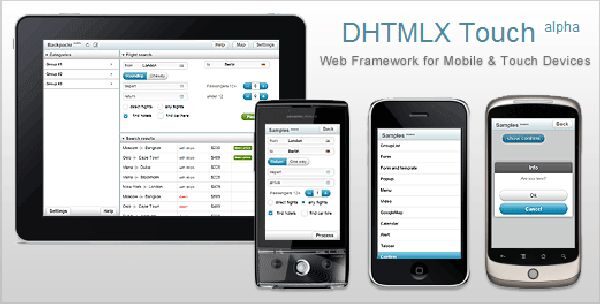 What makes DHTMLX Touch among the top notch Mobile Frameworks ?
You can customize and extend the already existing  functionality as DHTMLX renders simple &elegant solution for doing so with the DHTMLX library that gives a provision to add UI components. You can mix all the already existing functionality blocks and components  with one another or other custom code blocks  so that you can craft novel components  or extend it with existing blocks.
This framework provides the Global Data Storage feature on the client side so that the relations between the data elements are kept intact on the client side. It will as well allow you automatic update of the data across different user interface elements devoid of any user interaction. For instance if you consider an employee database, if the user will change the name of the employee in the details form in that case this name will automatically get updated in the list of employees.
This mobile framework is highly compatible with all the modern web browsers for multiple mobile devices which support HTML5 so now you can without any hassle build your apps for iPad, iPhone , Blackberry and Android gadgets.
This mobile framework provides simple and easy to use schemes for CSS editing so that you can customize the appearance of the DHTMLX Touch components. This framework will help you change the look and feel of the user interface that you have built using this framework merely by modifying the CSS.
This framework renders support for various development tools such as Touch UI Inspector that is a free extension for Google Chrome , Visual Designer that is used for developing mobile web apps via a drag and drop user friendly interface , Skin Builder which is a tool that will help you customize the colors of skin and choose the skin for your web app.
DHTMLX Touch is a framework that render server side support through the DHTMLX Connectors allowing you to as well write your own server side code. In this framework the communications between the server and the client is created through XML and JSON packages.
This framework renders intuitive object inheritance.