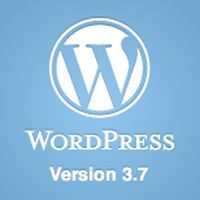 After the successful release of WordPress 3.6 "Oscar" edition in August this year, the WordPress team is all set to release WordPress 3.7 stable version by mid of October, while two beta version 3.7.1 and 3.7.2 are all ready out for testing.
The WordPress 3.7 version is aimed to address security loop holes at the WordPress core level, this version will be rolled out fantastic five features.
The fantastic five features that will be available in WordPress 3.7 are:-
Automatic Updates

The most anticipated and long awaited feature of automatic updates will become a final reality with the release of WordPress version 3.7. Before the release of WordPress 3.7, managed WordPress hosting providers provided automatic WordPress update feature for their users. With the release of WordPress version 3.7, WordPress will be able to carry out version updates on its own without intervention of user. However, the core development team has restricted the auto update feature for major WordPress releases i.e. WordPress will not update itself from version 3.7 to version 3.8. The default automatic update feature will work only for security and minor bug fixing patch releases.
The auto update feature can be turned on or off from the wp-config.php file. The wp-config.php file will comes with limited auto update feature and complete auto update feature, with the complete auto update feature option turned on WordPress will be able update itself to major version releases i.e. from version 3.7 to 3.8 on its own.
Enhanced Support for Language Packs

WordPress 3.7 will come with all new better and enhanced support for WordPress installation running on different languages. The main idea behind this is that WordPress will maintain a separate language file for default installation that includes default themes, importer plugins, and the WordPress core.
Till now users have to install language file that translates WordPress into desired language. But from WordPress version 3.7 onwards people using WordPress in their native language don't have to worry about updating language pack as WordPress will do it on its own for default themes, importer plugins, and the WordPress core.
All New Better and Enhanced Password Meter


The big arguable question is can a password meter help you in securing your WordPress website? Yes, it is helpful; a strong password holds paramount importance in securing a WordPress website. The core WordPress development team has incorporated the all new enhanced and improved password strength meter in WordPress 3.7, all thanks to Dropbox's zxcvbn library for strengthening WordPress 3.7 password meter.
Improved and Enhanced WordPress Search

Searching a WordPress website or blog using WordPress default search in not a pleasant experience. For this reason most of the WordPress users have rely on third party tools and plugins to enhance their website or blog's searching experience. But all thanks to WordPress version 3.7 that will be rolled out with improved and enhanced searching mechanism.
Till now WordPress used to display content in reserve ascending order i.e. according to published date of content against any search quire. But from version 3.7 onwards the search results will be displayed on the basis of search term and not on the basis of their published date.
An In depth Documentation for Hooks

Being an open source project WordPress is available for free; anyone can contribute towards its enhancement or even can remodify it. The WordPress project is already intensely documented, but with timely new releases rolling out, there are many new hooks that have not been updated in documentation till yet. So, with the release of WordPress version 3.7 a new documentation manual covering all new hooks will also be released. The new documentation is aimed to help new developers to understand the inns and outs of WordPress and contribute constructively towards its enhancement.
The Fantastic five features coming up with WordPress Version 3.7 are surely going to help in building better and safer web application.
To get the beta, try the WordPress Beta Tester plugin (you'll want "bleeding edge nightlies"). Or you can download the beta here (zip).