If you're a designer or a developer, you probably know the frustration of having a great idea or moment of inspiration only to have nowhere to capture it. There are plenty of iPad apps that are designed to help designers and developers bring their creations to life, so check out these top picks to see if you can incorporate them into your daily routine.
1. iMockups ( 4.5 stars )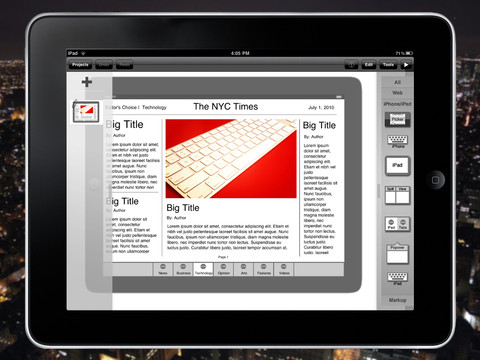 iMockups is a must-have application for any web developer as it allows you to create website wireframes and layouts on the fly. The touch interface is extremely easy to use and the ease of which a wireframe can be put together using the application is astounding.
.
2. Dropbox ( 4 stars )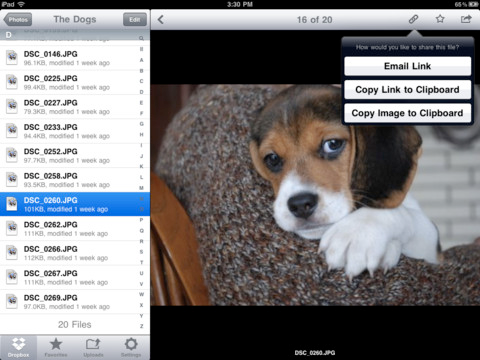 If you work between several devices, you know how much of a pain syncing code and other files can be. Dropbox is the solution to this problem as it is available on numerous devices, including the desktop and iPad. With Dropbox, you can keep your files synced up so that any changes that are made will be synced across all of your devices. This app is perfect for keeping yourself organized. You can even share with colleagues who also use Dropbox.
.
3. FTP On The Go PRO ( 4.5. stars )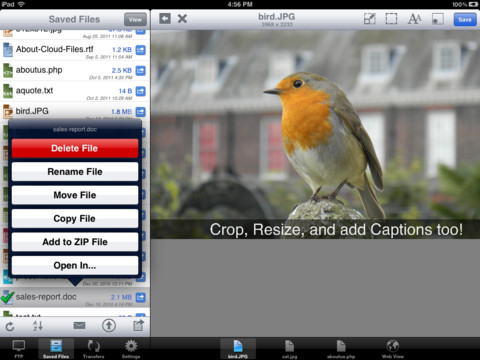 For quick access to FTP files on your server, there is no better client than FTP On The Go PRO. It lets you view, edit and even delete files on your server, as well as edit CHMOD access. The app includes an integrated browser so if you're making changes to a web page, you can instantly see them without having to switch between two different apps.
.
4. Analytics Pro ( 4.5 stars )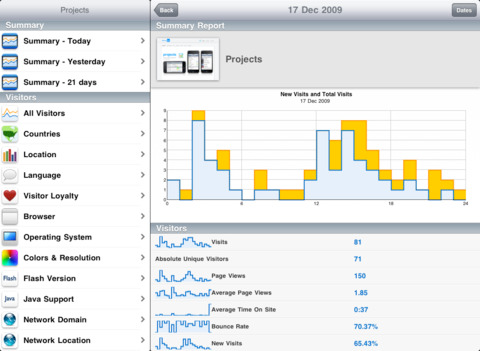 Keeping up with web statistics either for yourself or your clients is an important part web development past the design process. Analytics Pro provides a gorgeous overview of all of your website statistics so you can see how well advertising campaigns are doing across multiple networks. Depending on the speed of the Internet service providers to which you are connected, this app can update stats in real time.
.
5. Action Method ( 4.5 stars )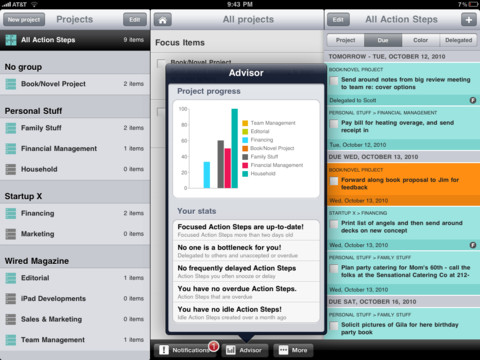 Working on a huge project can be daunting without it being broken down into smaller steps that can be undertaken quickly. Developers know the importance of tackling problems when they become feasible to do so, which is why the Action Method is a great way to plan out the progress of your projects to see them through from start to finish.
.
6. Gusto ( 3.5 stars )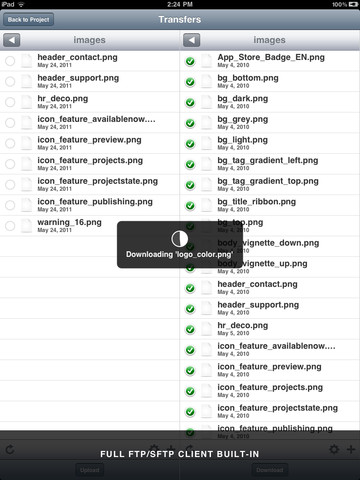 Gusto is a fully-featured website editing app that makes it easy to view, write and edit code directly on the iPad. It even has integrated FTP access so you can connect to your website and perform any edits you need directly from the app. For small changes that need to be made for clients on the fly, this app is perfect.
.
7. Markup ( 2.5 stars )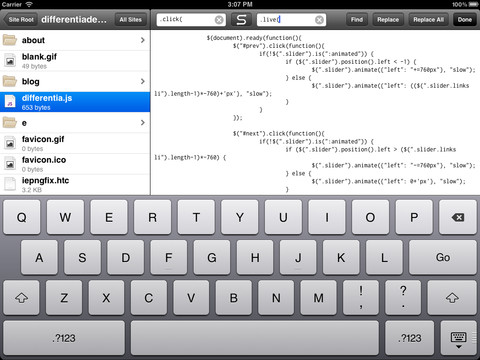 For developers with code that isn't quite ready to go live on the web, Markup is the perfect code editor for iPad as it colors markup for various languages such as HTML, CSS and Javascript appropriately. Code written in Markup can then be instantly uploaded to any server using FTPToGo.
.
As you can see, there are plenty of apps with developers and programmers in mind. The ability to access files and FTP servers no matter where you are is a great boon to the freelance programmer and developer, since clients are often demanding when it comes to problems that need to be fixed within a timely manner. While the iPad will never replace a laptop or desktop in the realm of coding, these apps make it a great supplement to coders everywhere.
About Author
Blake Sanders writes at broadband comparison site Broadband Expert and specializes in technical writing with a focus on internet service providers and mobile devices as well as the latest in high speed internet news and information.