Reading the Techcrunch headlines on a daily basis can sometimes make it seem like everyone and their brother is starting their own internet company's and hitting it big. A lot of people, especially web developers and web designers get a lot of inspiration from these types of stories and head off to start their own businesses, only to later realize that they do not have the mental resources and tools to see their startup through.
Entrepreneurship is not just about making a web app and launching it to the world. There are very specific personality traits and ways of thinking that you have to have, if you want a chance of success. The Techcrunch headlines, while interesting and entertaining. Don't give you that.
If you really want to succeed as an entrepreneur, getting the best advice possible is the first step. 
Below i have compiled a list of the best sites, by people in the web design and web development space, who strcuk out on their own and succeeded. Hopefully this acts a great guidepoint for any aspiring entrepreneurs.
Enjoy the post!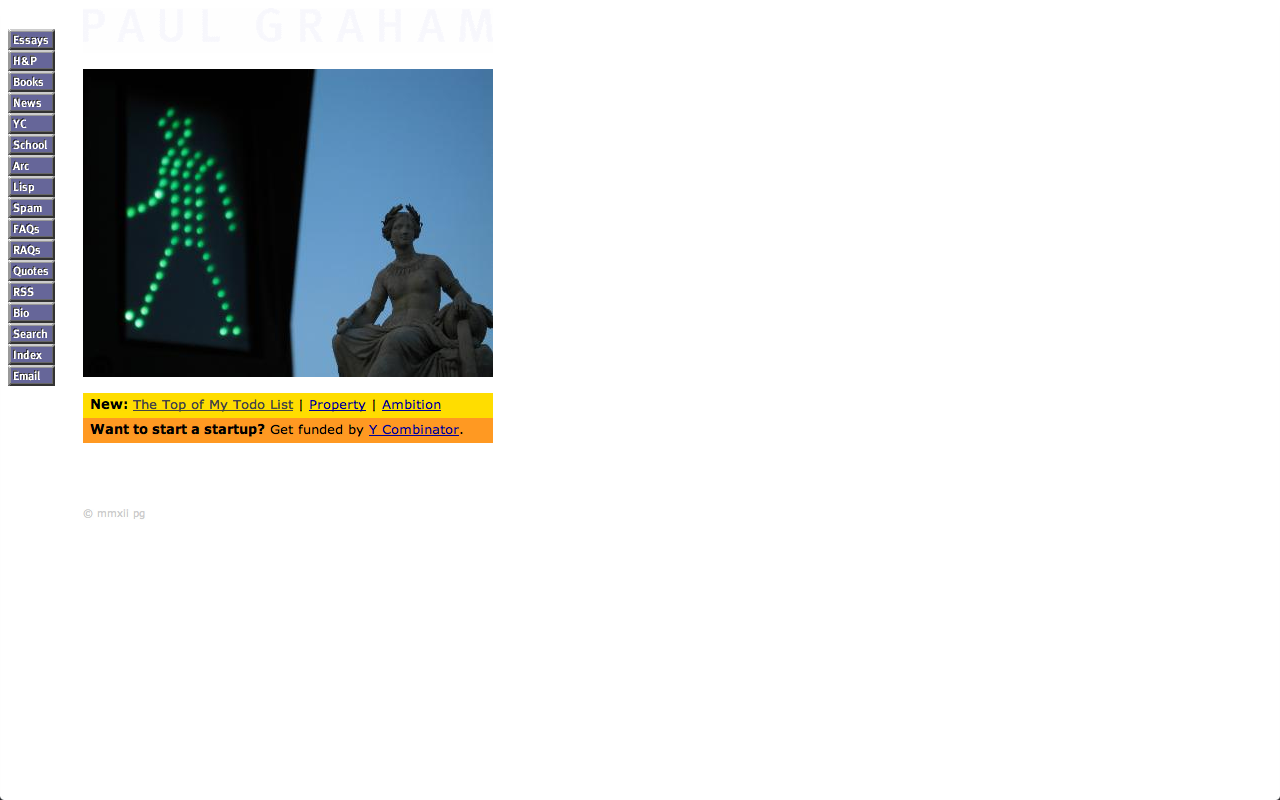 Why its great
Paul Graham talks about the psychological ins and out of startups entrepreneurship in general. His essays provide a very good overview of the startup game, from the perspective of a programmer and thus are the perfect starting for any coder wanting to think more entrepreneurially.
Best post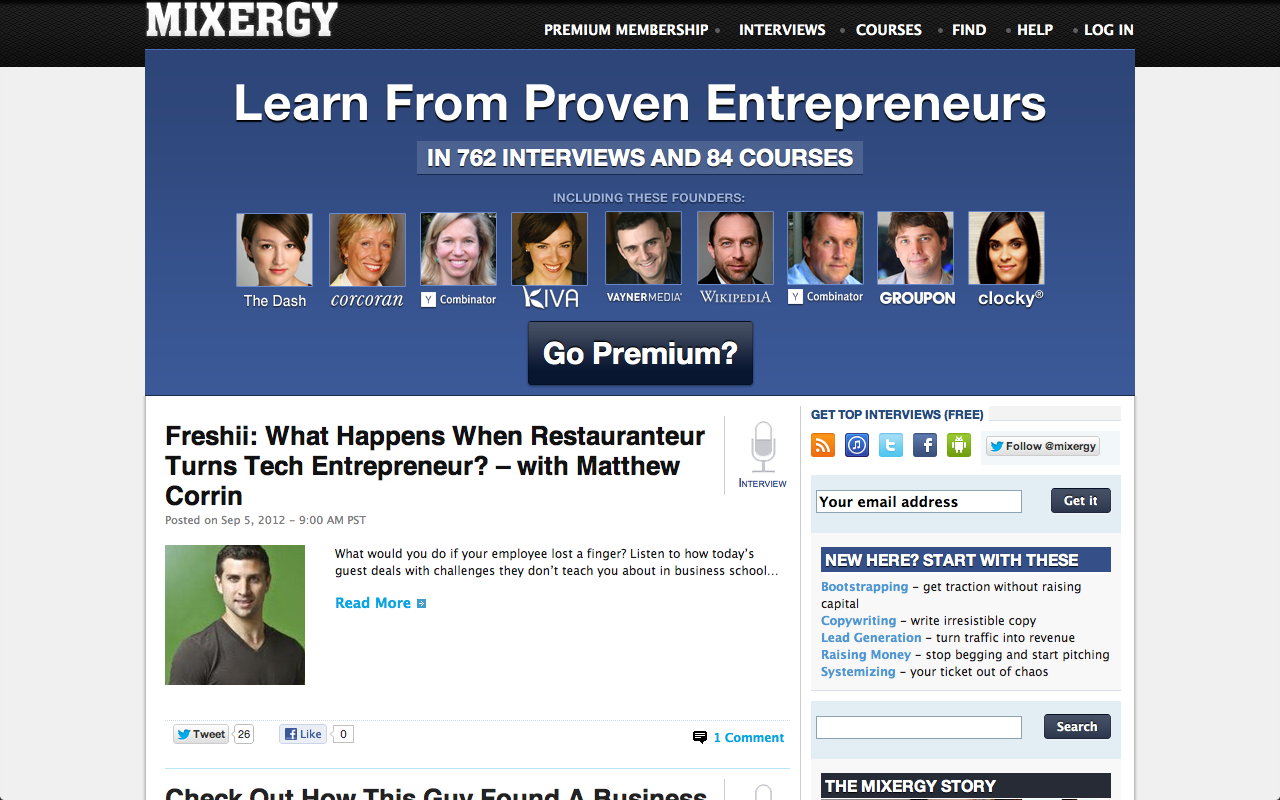 Why its great
With the unique interviewing style that the host of Mixergy, Andrew Warner has. Along with he himself being a curious entrepreneur. The insights that you are able to glean from his interviews with well known internet entrepreneurs (a large number of them programmers) are invaluable and unlike anything you will find anywhere else on the web.
Best post
Instead of just one, how about 10. :).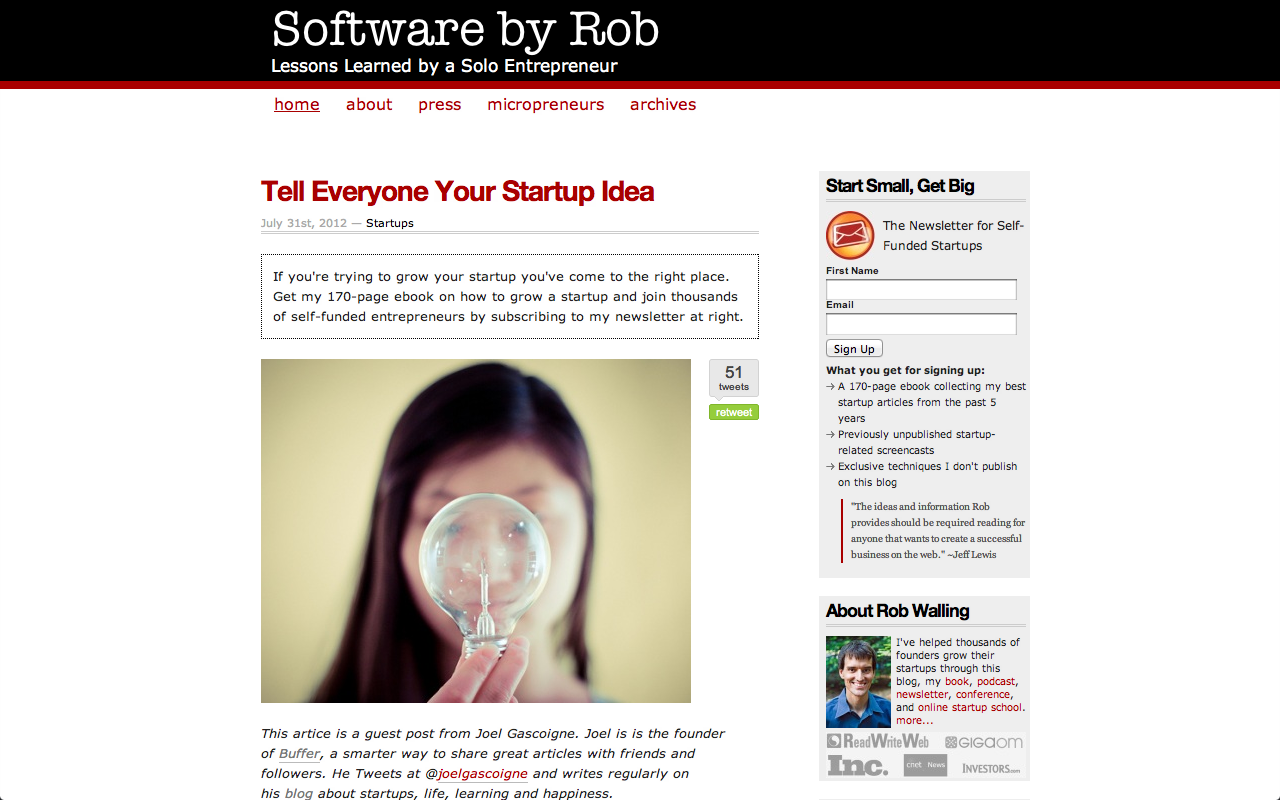 Why its great
Unlike the more general articles by Paul Graham, programmer and micropreneur, Rob Walling, on SoftwareByRob talks about the specifics of internet entrepreneurship. From SEO to landing page design to AB testing. This blog covers it all.
Best post
Why Startup Founders Should Stop Reading Business Books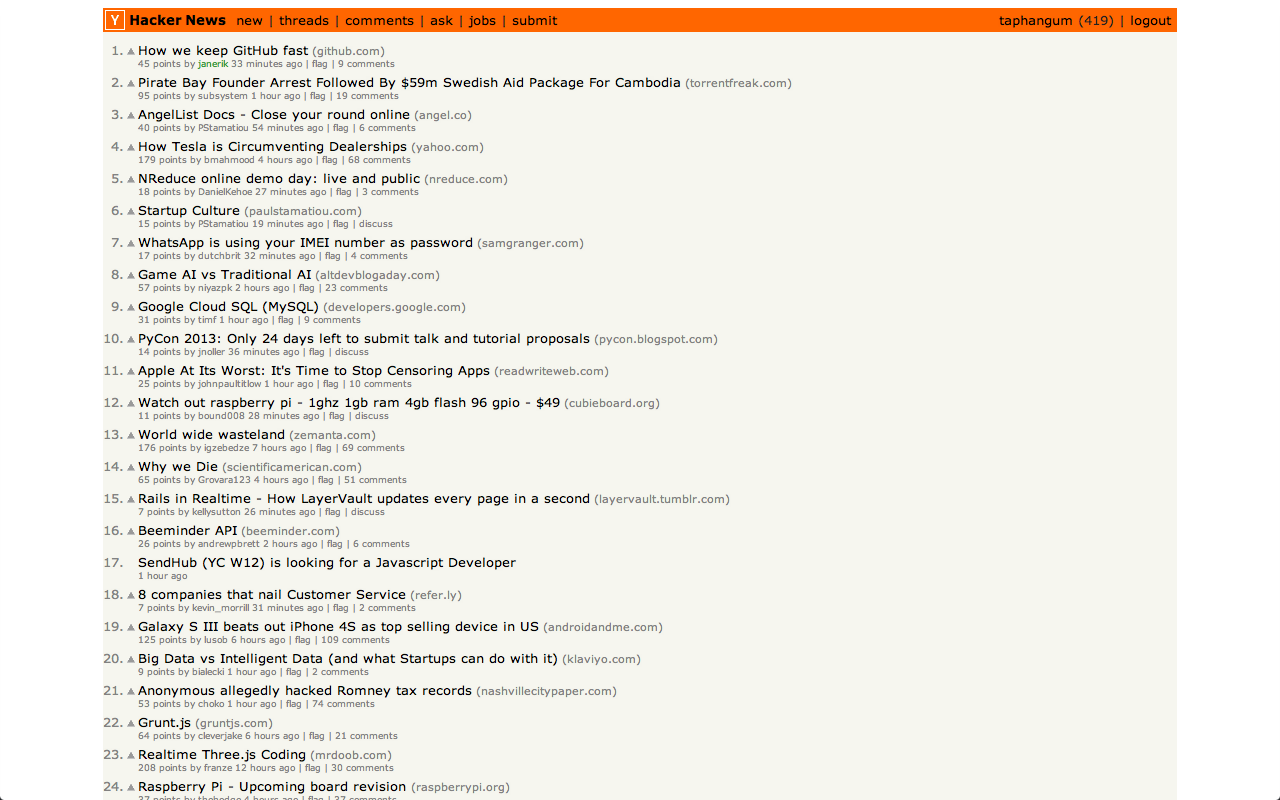 Why it's great
Founded in 2005 by Paul Graham, 'Hacker News' as the site has come to be known is a news aggregator – similar to reddit. But focused on internet entrepreneurship.
Though some would argue that the quality of posts and users in this entrepreneurial community, has detoriorated as of late. It is hard to find a better place to discuss internet entrepreneurship at length with like minded people. With users ranging from the founders of huge companies like Dropbox, Airbnb and instagram – this is the perfect place for an ambitious coder to spend their off time.
Best post
Who is living of their startup full time thread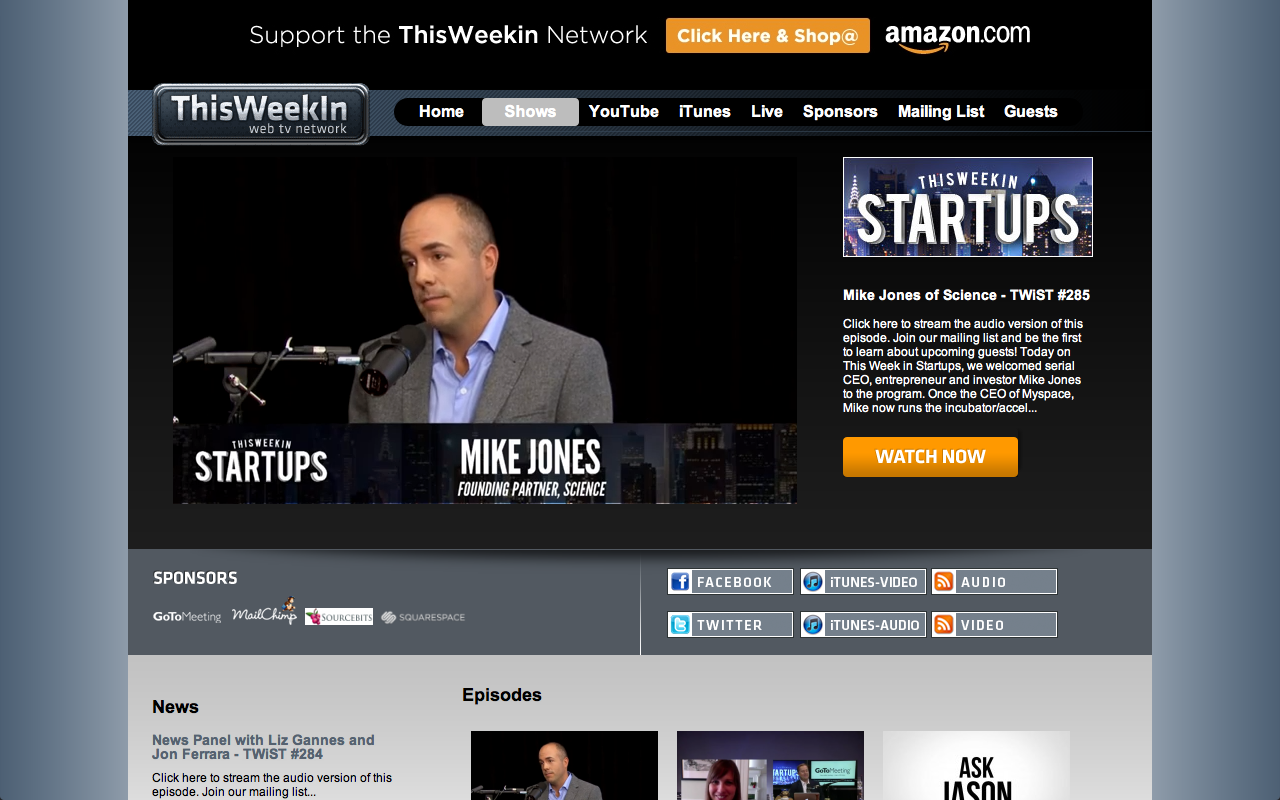 Why it's great
Last week the host, Jason Calacanis interviewed Nolan Bushnell for an hour. He got to discuss at length topics like, how he hired Steve Jobs and how he started Chuckie Cheese, one of the greatest American food franchises ever.
I got to watch it for free. Basically giving me the equivalent of a 1 hour conversation with one of the greatest entrepreneurial minds of our lifetime. For absolutely nothing.
I don't think any more needs to said. 🙂
Best post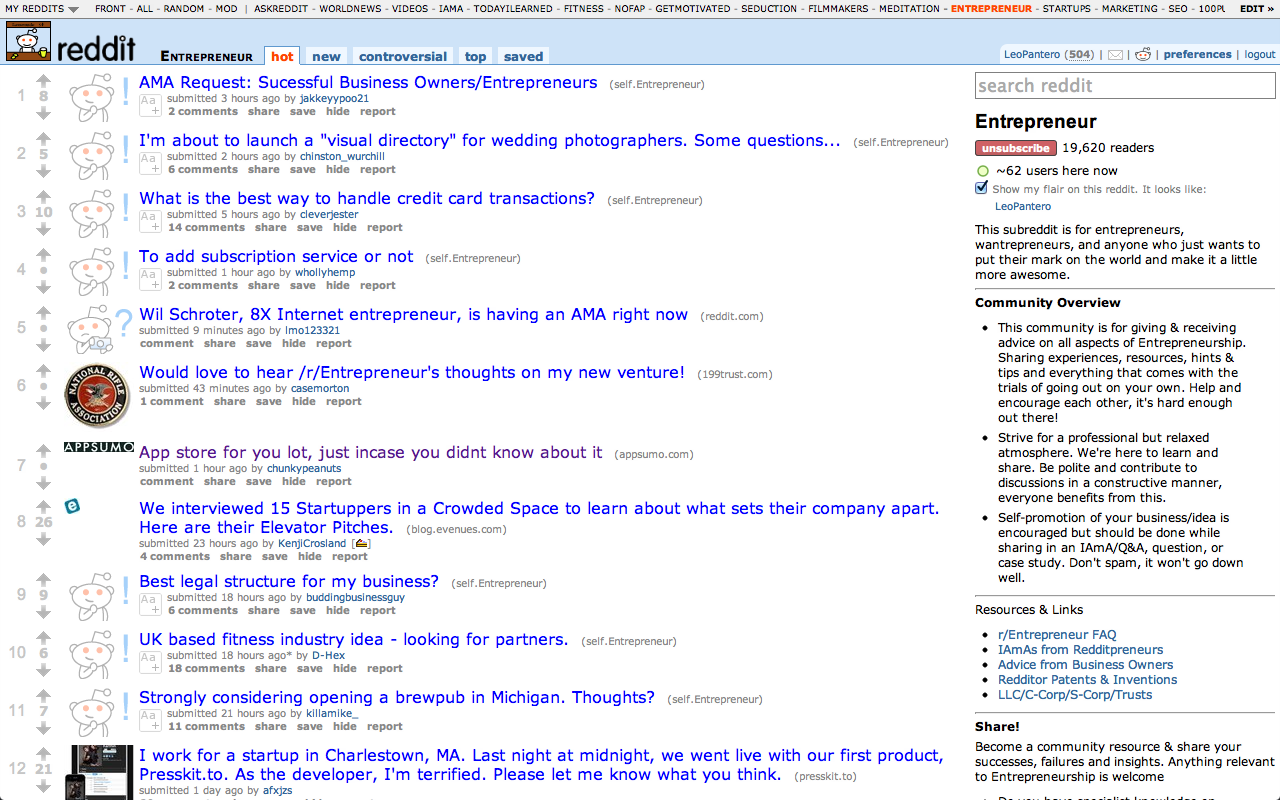 Why its great
Similar to Hacker News, this is an entrepreneurial community on the popular link sharing site, Reddit. It differs slightly from Hacker News, as their are more real world entrepreneurs here – so some of the discussion is a little bit different to what you would find on a coder centric site like Hacker News. There is still a lot of valuable information on the site, that is more than worth checking out though.
Best post
From Idea To Replacing My Full Time Salary In 4 Months. How i did it thread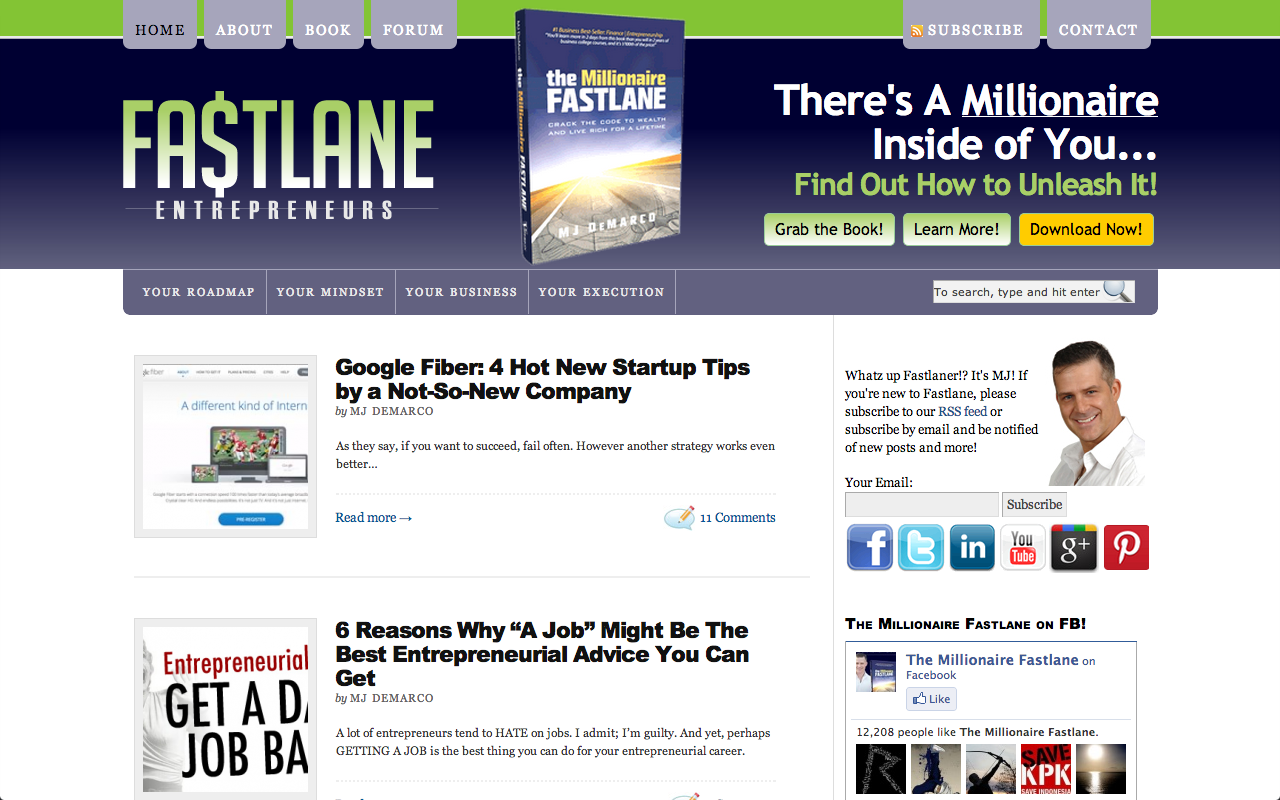 Why it's great
This site, run the by the Author of 'The Millionaire Fastlane' – which i highly recommend btw (believe me, the cheesy title does not do it justice. It's REALLY good). It focuses on the mental constructs that many people must overcome before they can really begin to think entrepreneurially. A lot of the posts focus on trying to help people come out of the employee mindset, and are very well put together.
Best post
Build Pyramids, Stop Climbing Them. Live Rich.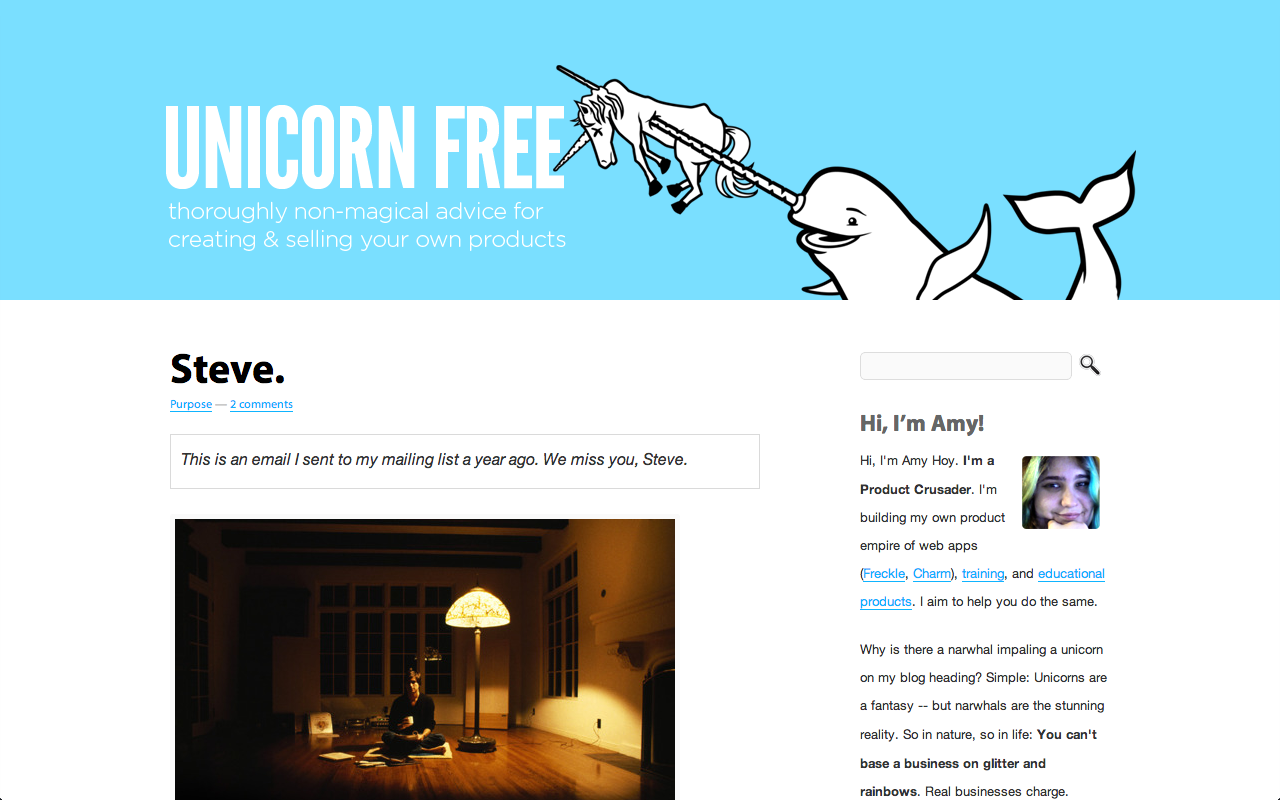 Why it's great
Amy Hoy, the Designer, Coder and entrepreneur behind this blog does not pull any punches. She gives readers the lowdown on what starting a business is REALLY like, without any of the bullshit. Her breakdowns of classic business books, such as the example quoted below are also awesome!
Best post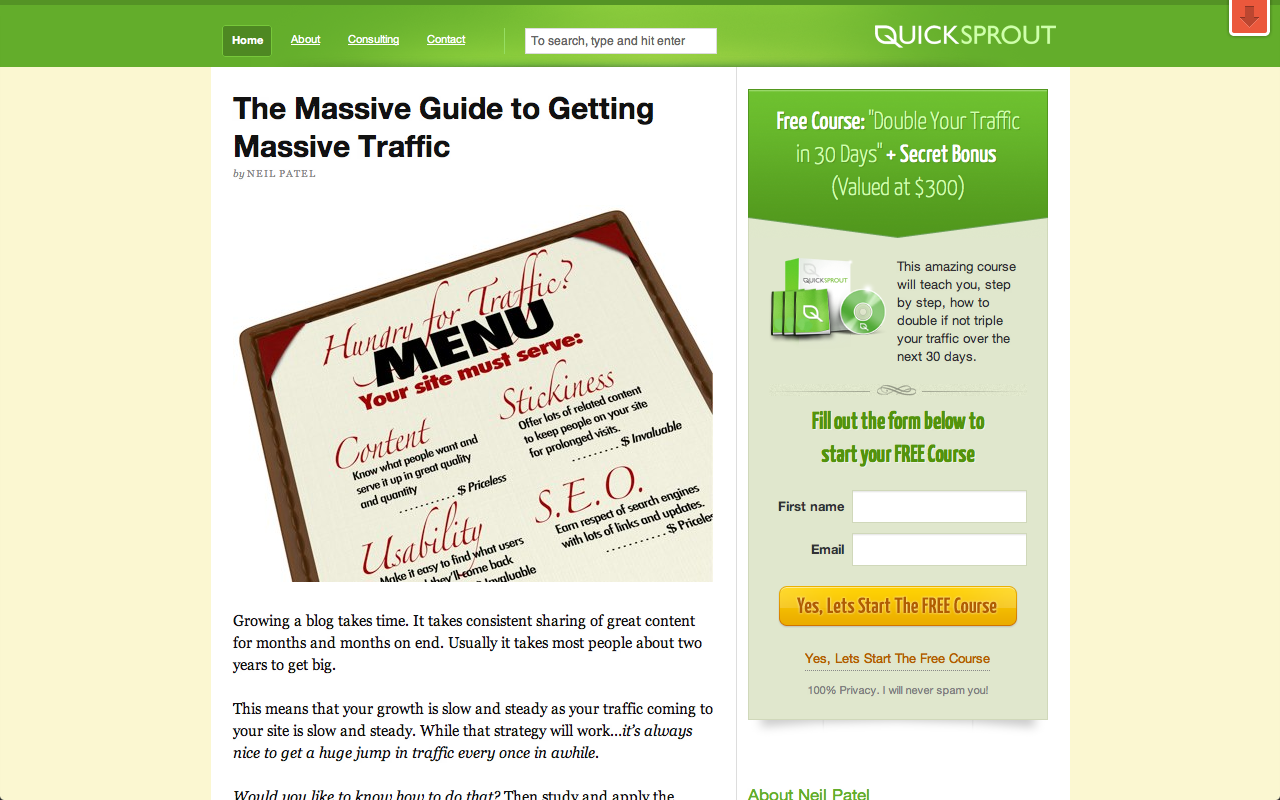 Why it's great
Quicksprout is one of the leading entrepreneurship blogs out there. Though the entrepreneur behind it, Neil Patel, is not a programmer. He is very experienced in the online entrepreneurship space, having run and sold numerous successful online businesses. He shares tactical – and sometimes linkbaity (though ALWAYS high quality) articles that get to the heart of the topics at hand.
Best post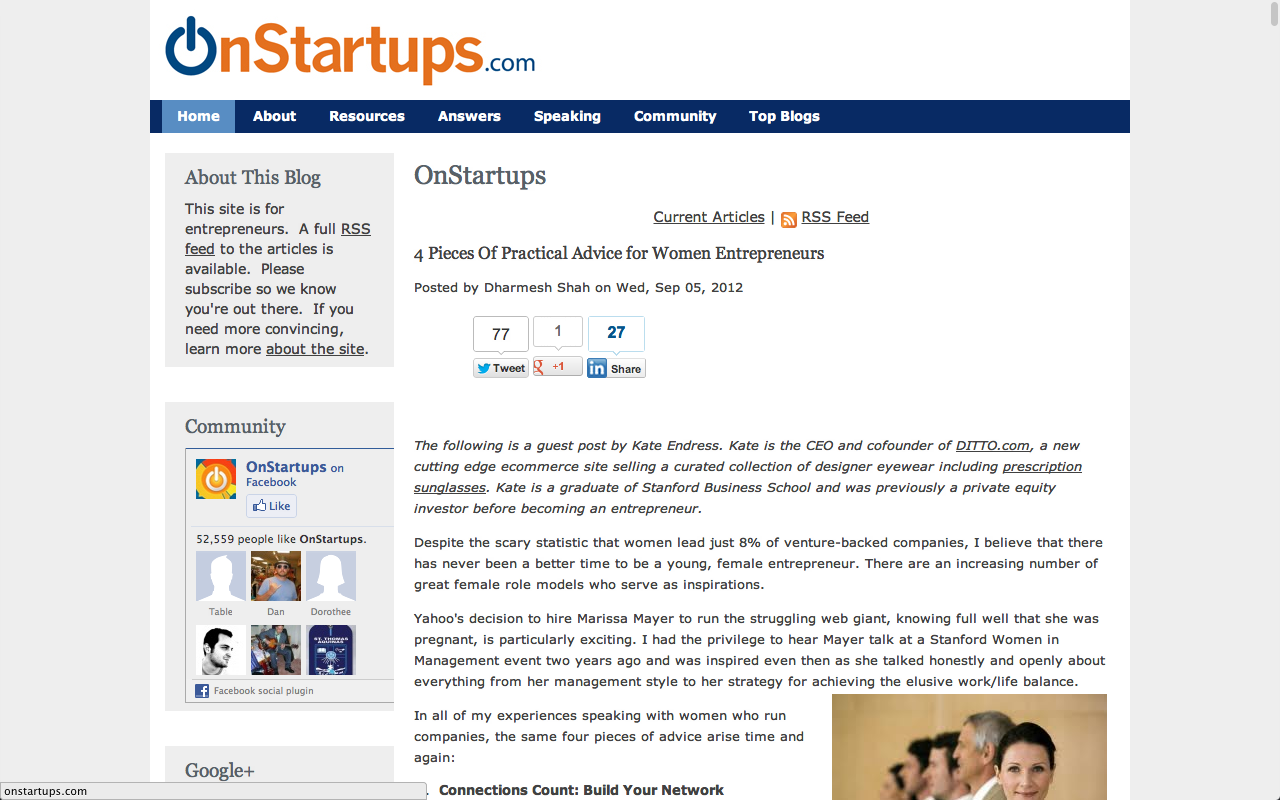 Why its great
Onstartups has a lot of great articles on entrepreneurship in general, but overall has a focus on running a venture backed company or raising money. This is very useful if you are thinking about running a company in that way.
Best post
The 11 Harsh Realities Of Being An Entrepreneur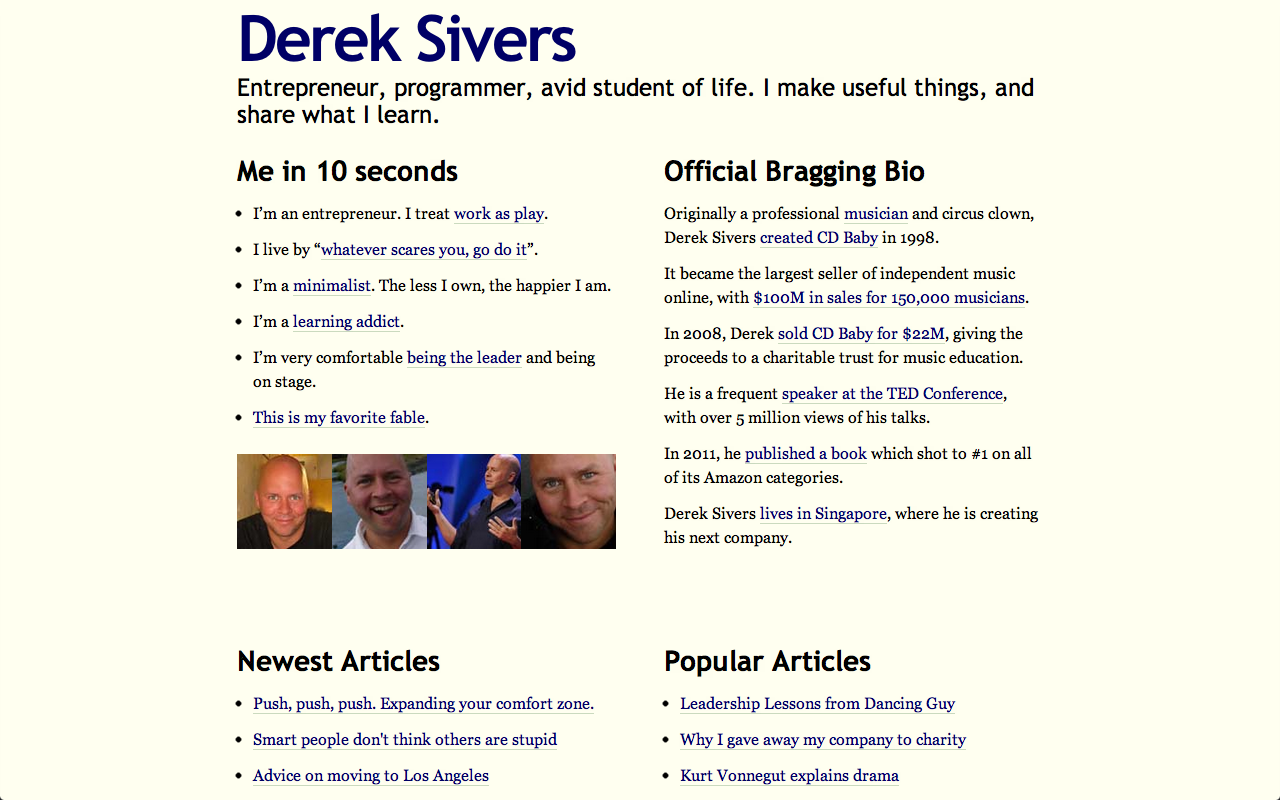 Why its great
This is probably my favorite personal blog online. Run by Derek Sivers, a former musician and now self taught programmer. He built (while learning to code in his spare time) and sold his company, CDBaby.com for $20,000,000 in cash. He shares the insights the he learned along the way as well as a bunch of other great things, such as business book notes and informative videos. All around a great blog for a budding entrepreneur.
Best post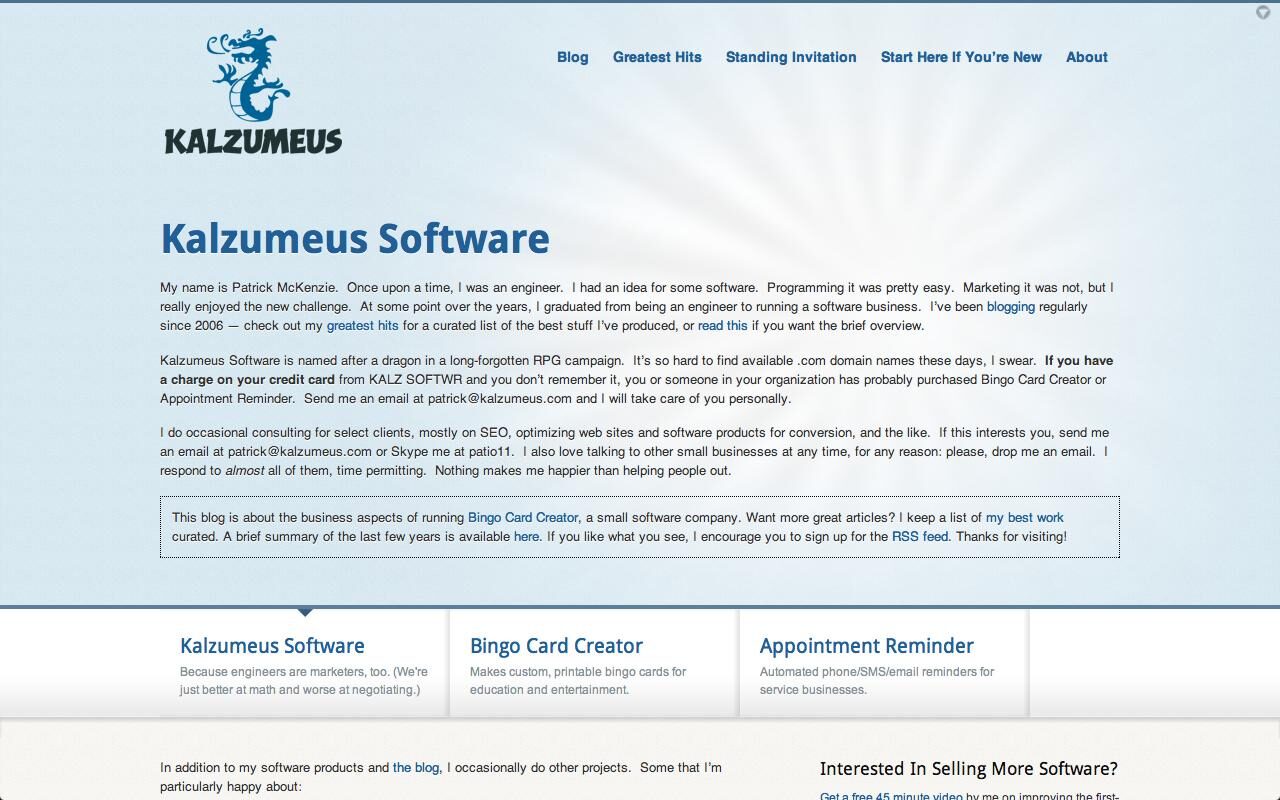 Why its great
A demi god in online entrepreneurship circles, Patrick Mckenzie documents his journery from a small time job as a japanese salaryman to bootstrapping a successful company + consulting with large clients for hundreds of thousands of dollars a year.
Best post
Don't Call Yourself A Programmer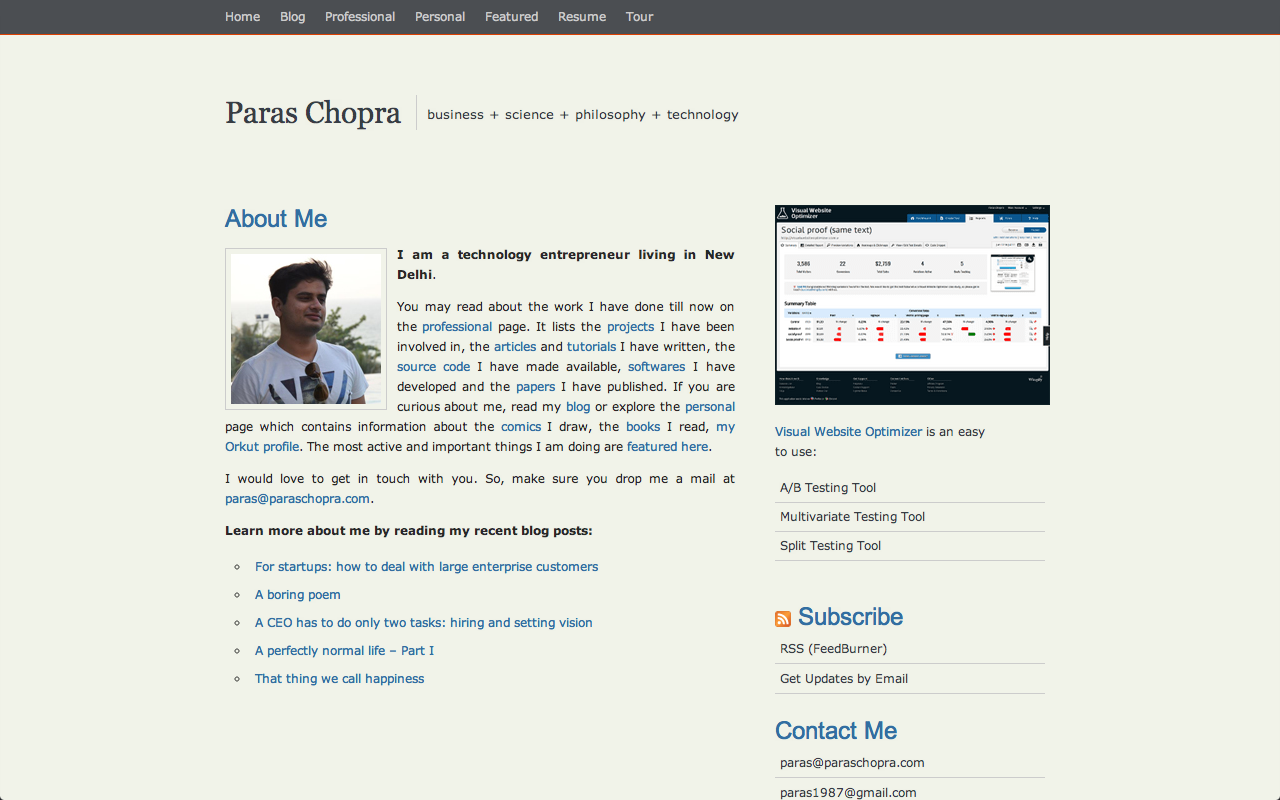 Why its great
Paras founded a startup called Visual Website Optimizer in 2009, the startup has since gone on to do hundreds of thousands in revenue and is now on track to do $1m in 2012. He did this by himself by coding and marketing the site with the limited resources that he had at hand. His site documents his journey from start to the present day.
Best post
Sorry, Your 'Cool' Web App is probably not going to make money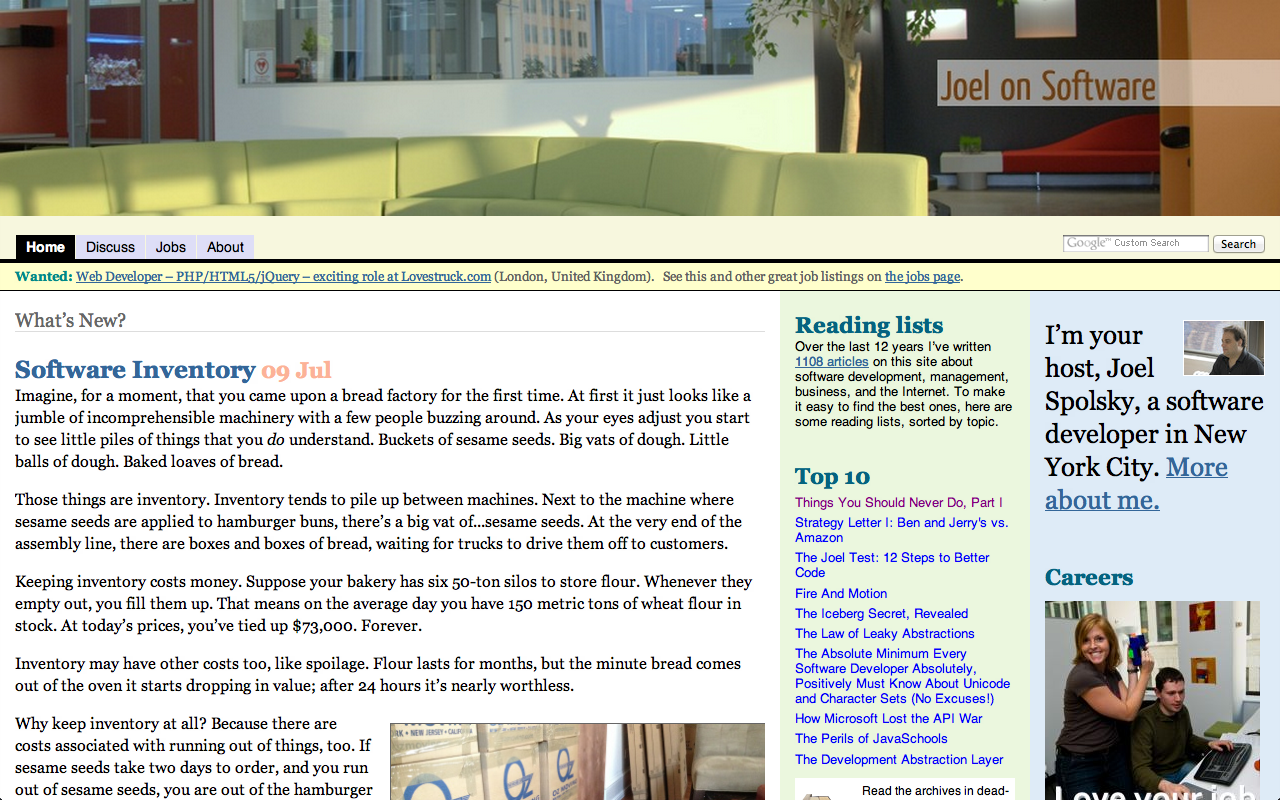 Why its great
Joel spolsky is one of the most well known entrepreneurs online. His blog has inspired many internet entrepreneurs (including Patrick McKenzie) to start their own business. And though he does not blog anymore. The archives of his previous content is a virtual goldmine for a budding entrepreneur.
Best post
Why its great
This is one of the most honest blogs out there. Jason Cohen, the entrepreneur behind this site, tells you how it REALLY feels to be an entrepreneur. Down to the minute details. For example, in one of his posts he talks about the mental chatter that was going on in his head as he tried to sell a large firm his software. That and many other incredible insights make this blog a must read.
Best post
Rich vs. King in the real world: Why i sold my company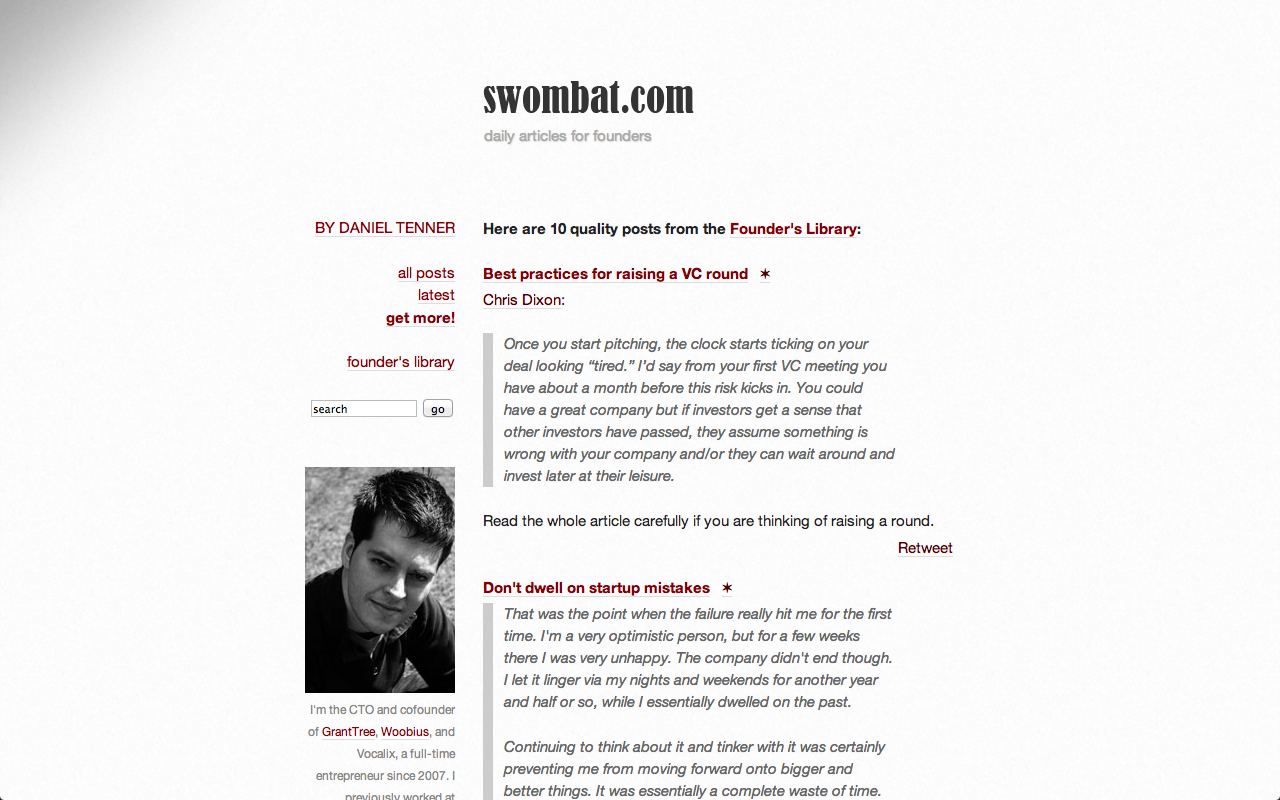 Why its great
As one of the top commenters on the previously mentioned entrepreneurial forum, hacker news. Daniel Tenner shares great startup inisghts, from his perpective as a bootstrapped entrepreneur. His writing is very down to the point and there is no beating around the bush. At all.
Best post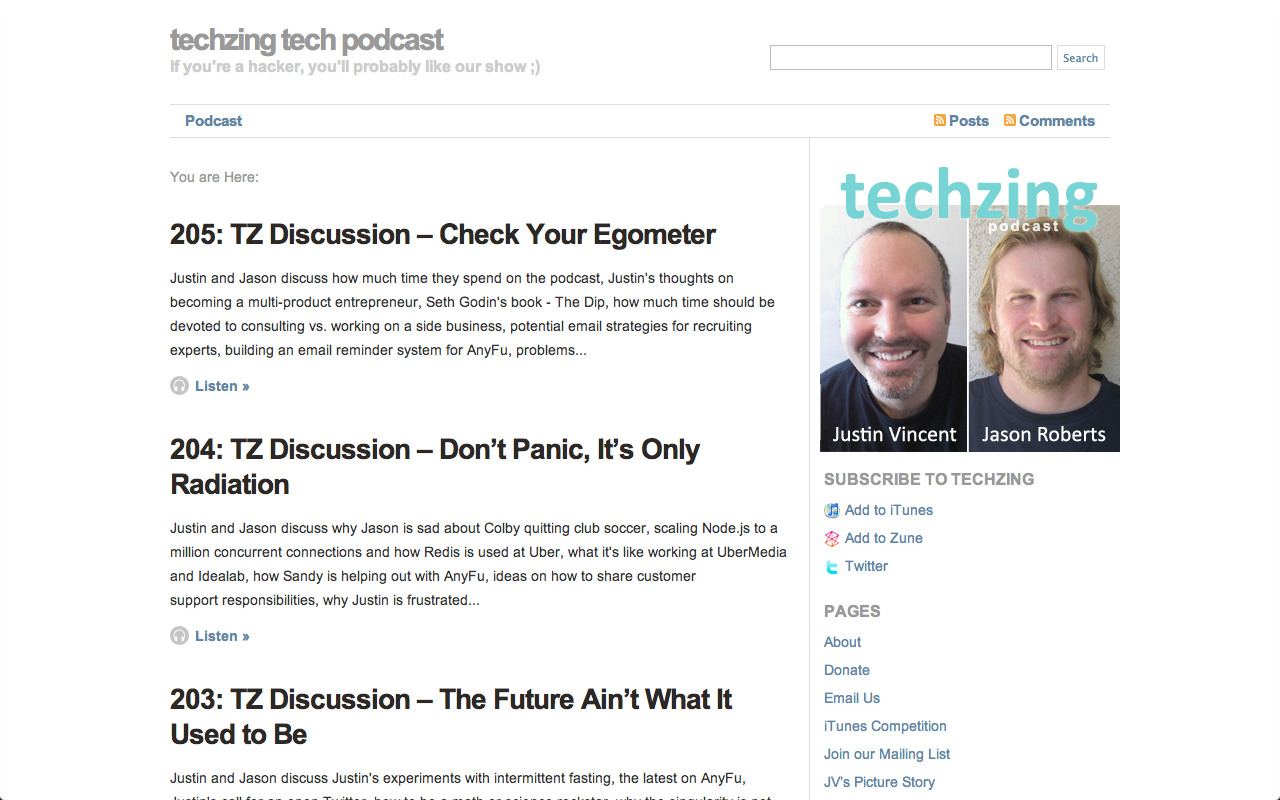 Why its great
Probably the best tech/startup podcast online. Run by two programmers/entrepreneurs Jason Roberts and Justin Vincent. The show mainly focuses on interesting topics around the startup ecosystem.
There are also various well known guests that appear on the show from time to time.
The banter and honest perspectives of the entrepreneurial hosts alone makes it well worth a listen.
Best post
Techzing – Pete Michaud, retired at 25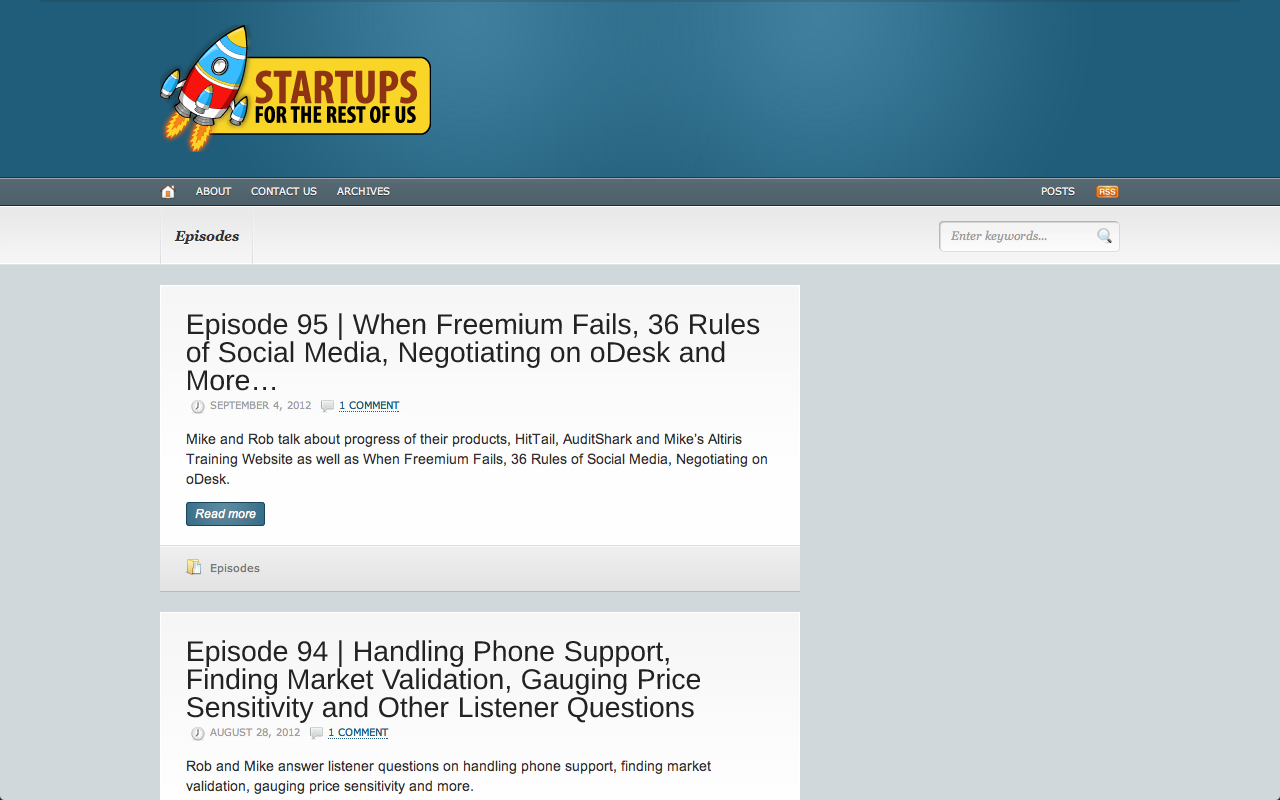 Why its great
Another site by Rob Walling. But this times its his podcast. Highly informative and really topic focused. This is a treasure trove of valuable, bootstrapped startup insight.
Best post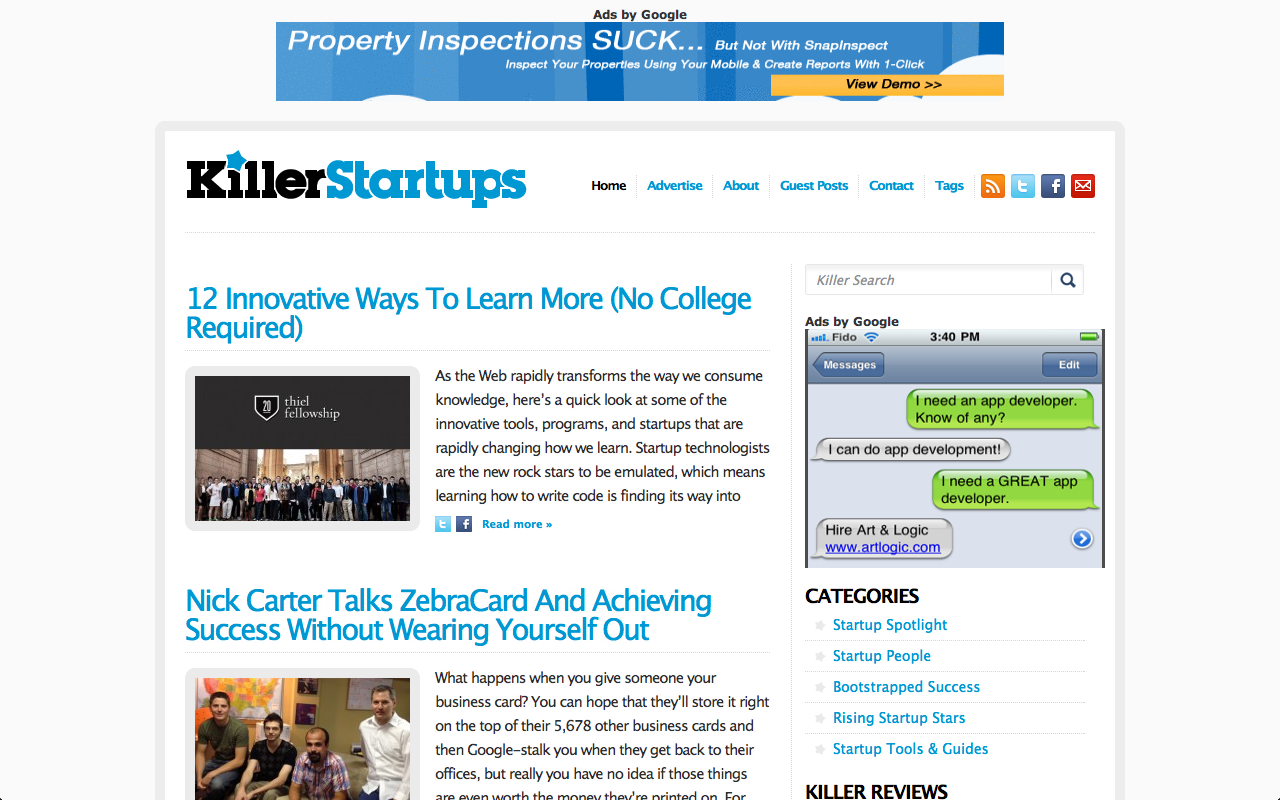 Why its great
Killerstartups has gone through somewhat of a transition over the past two years or so. It used to be a site that profiled new websites and web apps, almost exlusively, but it has now swithced to showcasing and showing relelant new, entrepreneurs and their startups. Their change of emphasis, focuses on the mental side of entrepreneurship more than the intial focus on the product. Its a great site, for grabbing insights, directly from these founders.
Best post
Why did google buy the wildfire app for $250 million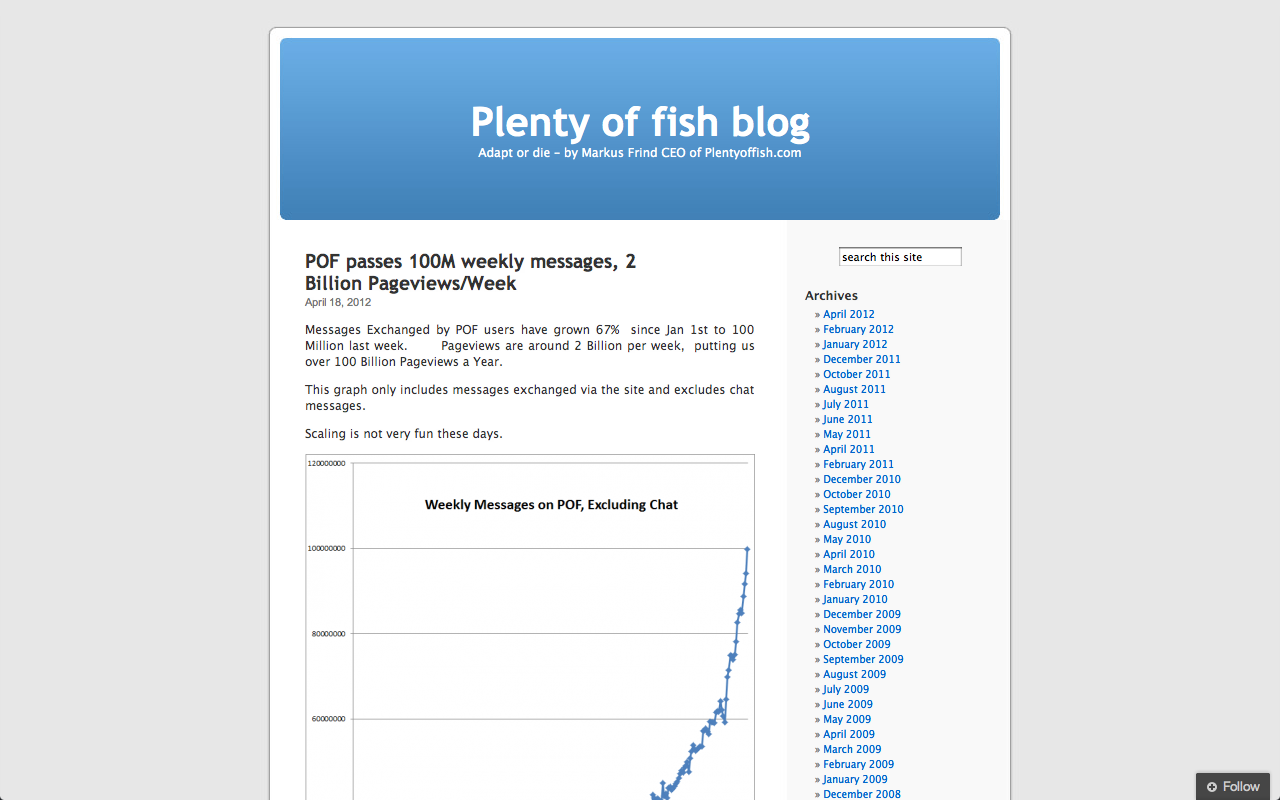 Why its great
This blog is run by the guy behind Plenty Of Fish. Which if you haven't heard of it (are you living under a tree), is the bootstrapped dating site that he started in 2001, that has now become the biggest dating site in the world. Beating juggernauts like Match.com and Eharmony by quite a big margin.
He shares insights on building and running a high traffic company as well as a few inspiration posts that show the success of the business so far.
Best post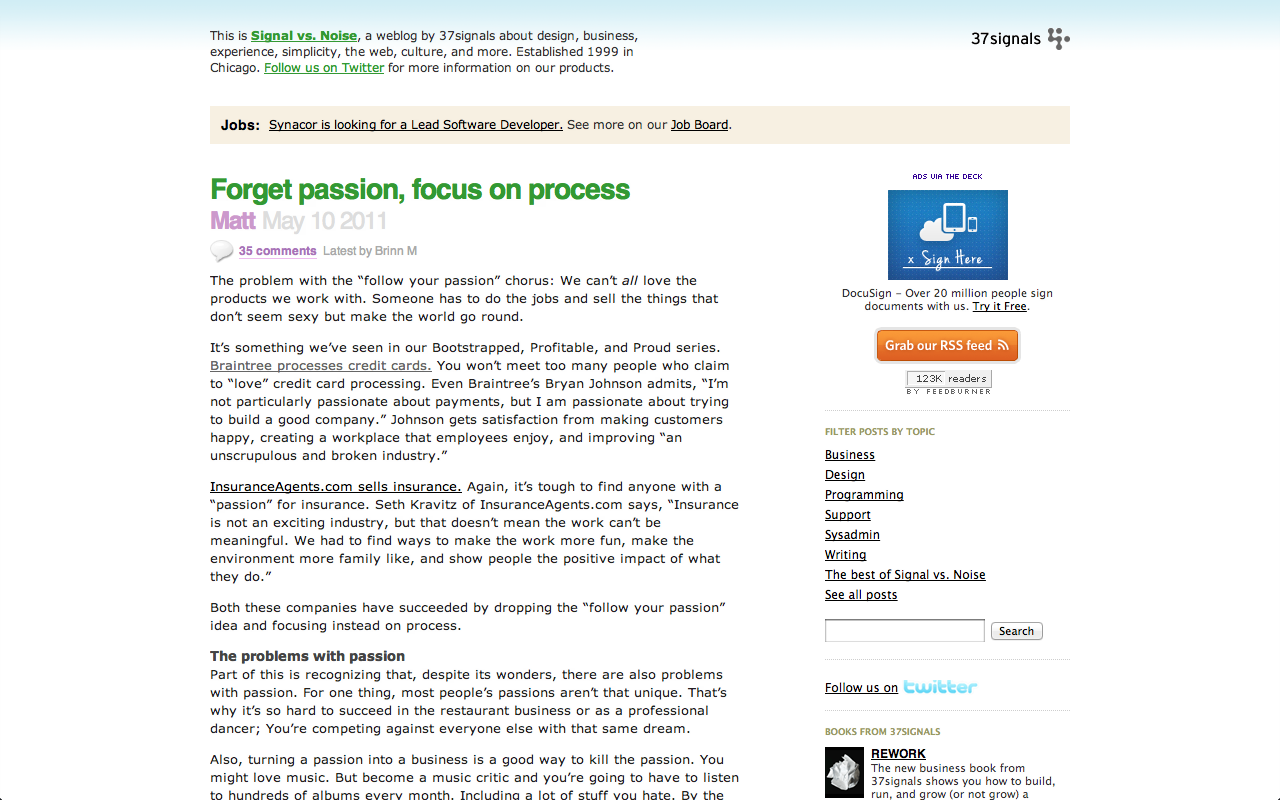 Why its great
This blog by 37signals covers a range of topics, from design, development and entrepreneurship. The great thing that sets it apart from most other company blogs that pretty much cover the same things is 37Signals own personal viewpoints on things. They have a very old school business approach, that i personally like quite a bit. Their ideas get you thinking about how to start a real business, instead of just another webstragrambook type of business.
Best post
Forget Passion, Focus on Process.
Do you have any other sites that you think are great for budding entrepreneur webmasters?
Let me know in the comments! 
About Author
 This is a guest post from Tapha. Founder of MyAppTemplates.com, a site that provides custom iphone app templates to people who cannot afford to spend $1,000′s on their iphone app design.