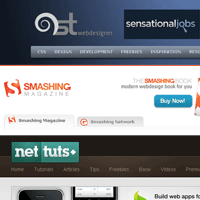 On 08.27.10, In Miscellaneous, by Steve
If you come on a blog with a specific emotion, you may like it best if it caters you with the apt ambience. I've scrounged the web to enlist twelve blogs that strike you with such effects as the chill, thundering, or sometimes the freshness of the morning sun. The links below sport the aura of dynamic weather conditions.
Feel the chill, thunder or the sootheness. Lets Go.
1. 1st Web Designer

Weather
1st Web Designer stuns you with thundering effects.
Weather
It's tedious and humid at the Nettuts.

Weather
Sunshine on a snowy day glows the Smashing Magazine

Weather
The blue sky serves the Design 'Inspiration'.

Weather
The cloudy evening mesmerizes the Designus.

Weather
Heavy showers on the Noupe.

Weather
Speckyboy seems silent before the storm.

Weather
Chill to the bone at the freezing Naldzgraphic.

Weather
The Tutorialzine is struck by the deep dark total eclipse.

Weather
Scorching summers set in the webdesignerdepot.

Weather
Sixrevesions seems to be surrounded by atomic dust.

Weather
Dark fog all around and Rainbow on queness.